Chan Tui
English Name: Cicada Moulting
Flavour: Sweet & Salty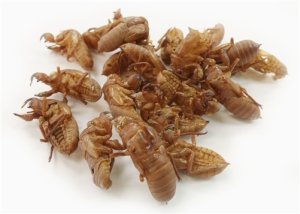 Chan Tui is one of the more unusual herbs we use in Chinese Medicine. We know it in the west as cicada moulting or cicada shell.
The main therapeutic use of Chan Tui is to treat colds and influenza. It is best suited when there are symptoms of feeling warm. More specifically, Chan Tui can treat the flu symptoms of sore throat and/or a loss of voice.
Eye symptoms can be treated with Chan Tui. In Chinese Medicine terms, the herb is said to remove superficial obstructions in the eyes. This means it can be used to treat red eyes, painful eyes, swollen eyes and blurry vision.
Chan Tui can also be used to treat skin rashes. In clinical practice, it is used in the early stages of measles. This can be identified by the presence of an incomplete expression of a rash.
In Chinese Medicine, there is a concept known as "internal wind". This is not easily explained within the model of modern medical science. Chan Tui is able to treat some of the symptoms which are caused by internal wind. These symptoms include convulsions during a childhood febrile disease, spasms, delirium and night terrors.